In the autumn 2023 issue of our supporter magazine, we're celebrating three major triumphs. Just look at the difference you're making.
Half a century ago, we started working in Bangladesh with our partners and local communities. We wanted to help prevent avoidable blindness and ensure people who have disabilities or are from vulnerable communities enjoy the same rights as everyone else.
Today, millions of people like Shamima (featured on the cover) can access free eye care and have equal opportunities to thrive. We couldn't have done it without you, our wonderful sight saver. We want to share with you how much has been achieved, and what we're still determined to do.
Not only that! After many years of hard work and collaboration, Mali and Benin have become the latest countries to eliminate trachoma – adding two more historic successes to our map. I hope you're proud of what you're helping to achieve.
My very best wishes,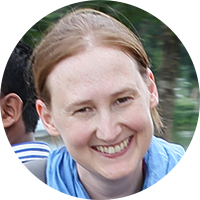 Ella Pierce
Global director of fundraising